In designing a site presented on different devices, is it more important to brand based on consistency or User-interaction (UI)? In a world where the internet is accessed on various platforms with different-sized screens, it's difficult to understand the needs of a business website as a whole. While responsive web design has content fluidity, adaptive web design presents what's best for each device it's viewed from. The choice between the two designs vary depending on both the look and functionality of one's site.
Responsive designs have been around for the past few years and are easier to maintain as they are on one content management system. The fluidity allows for one site to be presented on multiple platforms as the content changes sizes. By using this option, lower funds are needed to create a business site across the board.
Adaptive design, on the other hand, creates a variety of sites, each designed for each platform. This may be more costly, but portrays the best look and functionality for businesses, especially those that are already familiar with a set audience. If people are familiar with the brand, they understand the UI  as they have invested time to learn it and consistency is more appealing. When brands are  smaller or newer to audiences, the need for UI specificity is necessary for them to understand how each site works.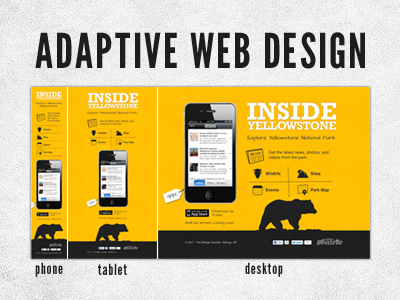 It is important for businesses to understand what is necessary for their audience. Functionality has two aspects: Is a single problem solved with a single feature? or Is there a difference between features on different platforms? If there are differences, UI is more important and adaptive web design is more reasonable.
Although adaptive web design has been on the rise lately, there are many aspects to figure out whether or not one should stick with responsive design. The cost of an adaptive site is greater. It also involves more planning and time involved. Brand consistency may also be lost in this method, unless audiences are already familiar with the company. It is vital to understand the situation of one's business before jumping into adaptive design but once understood, can become an amazing marketing device.