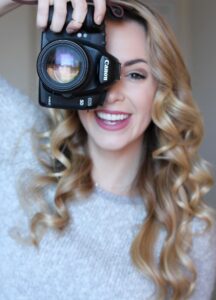 Van West Media is extremely excited to introduce our new Social Media Manager, Stephanie Cowan! Stephanie will focus on increasing visibility, engagement, leads, and sales for our clients using their social media platforms like Facebook, Instagram, Twitter, Snapchat and LinkedIn. These platforms are a great way for our clients to effectively reach specific audiences and Stephanie is a master at putting together a social media strategy and creating the appropriate copy and visuals to accomplish this.
Stephanie brings to Van West Media a keenly artistic eye, sharp wit, and unbridled enthusiasm and we wanted to give her the opportunity to introduce herself to all of you:
"I am really excited to be working here at Van West Media and have hit the ground running in the social media department. My biggest focus for the first month was revamping our own Instagram account. I am super passionate about creating unique and thoughtful content that can strengthen our brand's voice and visibility. I want each piece of content that goes live to give pause and have reason. It is my goal to make every single aspect of a post on social focused and goal oriented. That's what is so special about social media. You can mold the big picture by obsessing about the nitty-gritty to create something unique, flawless, and memorable.
I have also spent a great deal of time meeting with many of Van West Media's new and existing clients, learning about their various industries, and helping them curate and tailor their specific social media profiles. This includes understanding their corporate culture and identity as well as their vision and goals moving forward.
One of the reasons I was originally drawn to Van West Media was because of the vast differences and variety between the client base. Some digital marketing agencies focus on certain niche markets, but Van West Media has a wide-ranging and exciting client roster including law firms, financial firms, fashion brands, luxury travel destinations, non-profits, and more. This diverse clientele makes my job uniquely interesting and fulfilling and means that I get to constantly create new, varied, and exciting content.
If you have not yet taken a peek, I encourage you to visit our newly revamped Instagram account! Follow @vanwestmedia for a behind-the-scenes look at all of the great work we are doing here. I look forward to continuing to improve our client's social media profiles and if you would like to discuss your own company's social media strategies, please reach out to me so that I can help you."
-Stephanie Cowan