Vertical farming is the next big thing in AgTech and AeroFarms, a company headquartered in New Jersey, has spent the last ten years positioning itself to be at the forefront of the vertical farming movement. With significant funding in place and having broken ground on a 70,000 square foot Newark facility in 2015, AeroFarms is on a mission to combat the global food crisis by leveraging patented technology and farming locally. AeroFarms builds, owns and operates indoor vertical farms that grow safe, nutritious food in a way that is respectful to the planet and the communities in which they grow.
As pioneers in this space, and ready to launch their core products into the marketplace, AeroFarms wanted to find an agency to partner with that could clearly convey a multi-faceted story for its corporate website redesign. This story needed to speak to a divergent audience exactly what differentiates AeroFarms from the many new players beginning to crowd the vertical farming space.
Success metrics were focused on three core audiences that AeroFarms wanted to attract moving forward. These included potential investors/partners, new employees, and the media. Working closely with the AeroFarms team, Van West Media defined several main goals for brand positioning and how to incorporate these goals into the website redesign.
Our Goal: AeroFarms needed to convey the company's proprietary technology in an engaging manner without allowing the story and visuals to become too techy or inscrutable for general audiences.
Our Solution: Highlight and showcase the rich visuals without impeding on the extensive company narrative and story. We used colors that are bright and inviting as well as colorful imagery set against clean crisp white pages. We complimented this with easy-to-read texts, allowing for very digestible chunks of content with built-in "scan-ability". Subtle scroll animations respond to user interactions allowing for increased engagement and user synergy.
Our Goal: The website redesign had to clearly and concisely tell AeroFarms' multi-faceted story. This story includes providing a possible solution to help solve the global food crisis, explaining the nutritious benefits of sustainable and socially responsible food production, and the benefits of being respectful to the planet and local communities. All without being heavy handed.
Our Solution: Create a system of communication that appeals to a broad audience, but also speaks to those who are interested in a deeper dive into the company's technology and environmental benefits. We worked closely with AeroFarms to weave the proprietary technology and the environmental story throughout the site. This allowed curious users to explore AeroFarms accomplishments to date as well as the rich story behind the AeroFarms concept.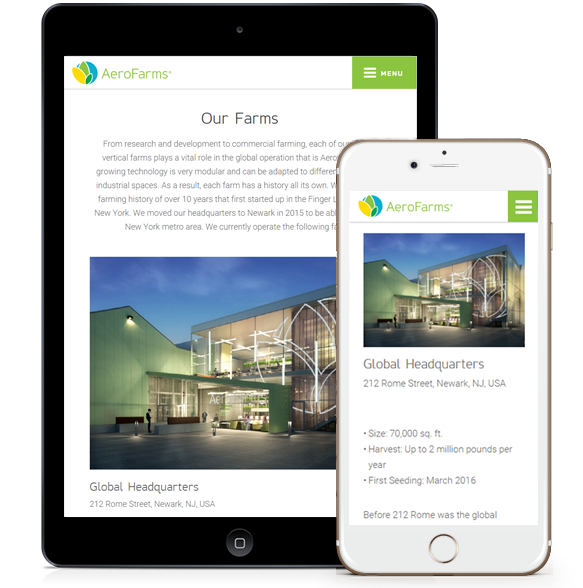 Our Goal: Differentiate an established company like AeroFarms from the many new players entering the indoor farming space.
Our Solution: Create a website that functions in the cleanest, clearest and most seamless way possible in order to showcase AeroFarms' unique story and value composition. This includes the existing patent, partners, investors, the physical space, future plans, leadership and the very strong media mentions that AeroFarms has already received. Van West Media designed an extremely accessible interface, clean, clear and intuitive navigation, and a site that was designed using today's best practices so that the incredible story behind AeroFarms could clearly and effectively resonate throughout the entire site.
Van West Media looks forward to the next chapter in our exciting partnership with AeroFarms. Stay tuned…